A yacht is defined as a luxurious or extravagant boat, ship, or vessel used for pleasure. We can take this definition further by breaking down each word. Luxurious means having the best of everything; extravagant refers to spending on something more than what's needed or reasonable. We all know that money doesn't grow on trees, yet some individuals choose to spend large sums of money on a luxury item.
First things first: what do we call a Mega Yacht? Is it considered a superyacht or just an ordinary yacht? Superyachts are categorized as large vessels that exceed 24 meters or 50+ feet and fall under the mega yacht category. However, superyachts can be separated into two categories: private and charter.
Private yachts are vessels owned by an individual or a group of individuals. They are used for personal purposes and not available for charter.
Charter yachts are vessels used by a collective group of people for vacations and sometimes for business purposes. Multi-day trips can be scheduled with the vessel owners to take passengers out onto the water, or they can be rented out on a per-hour basis.
Now that we know what distinguishes large and small boats and yachts, we can discuss the mega yacht.
So, what is Mega Yacht?
While the definition of a mega yacht varies, many people consider that it starts at 200 feet or 60 meters and extends upwards. The larger superyachts for sale (often megayachts) may have bespoke passenger licenses allowing them to accommodate more than 12 passengers. On the other hand, large yachts are generally crewed by a substantial number of individuals, and there is a wide range of features available. Gyms, spas, helipads, private owners' decks, and even cinemas are now standard features on megayachts.
Many have magnificent beach clubs with high-speed chase boats and even submarines. The basic facilities are nearly the same for superyachts and megayachts, with a few minor exceptions. The term "mega-yacht," however, is not a universally-accepted phrase, and its exact meaning is debatable, although it has become commonplace in the United States and international news media.
Difference between Mega yacht and Super Yacht
The terms superyacht and mega yacht are sometimes used interchangeably. However, some people prefer to make the distinction based on size. A superyacht is defined as a yacht longer than 24 m, whereas a megayacht is around 60 m long. All megayachts are also superyachts, but not all superyachts are megayachts. To preserve the yacht and provide a top-notch level of service, mega yachts frequently have larger crews.
Largest Mega Yachts in the world
1. Azzam – 180m
The Azzam is owned by a publicly-unknown sheik who took the world record from Russian billionaire Roman Abramovich's 'Eclipse,' which has a length of 162.5 meters and cost $1.2 billion to build. The Azzam is an astonishing 180 meters long, but the price tag associated with this yacht will never be made public.
To top it all off, the Azzam is powered by an oil-fired steam turbine that can reach speeds up to 30 knots. The yacht also boasts two helicopter pads and a hangar bay for up to three aircraft, not including the ones already on board. As if this list wasn't impressive enough, there are four swimming pools, a beach club, a six-story high atrium with a glass staircase, and an armor-plated master suite where the owner can view any surrounding threat from afar.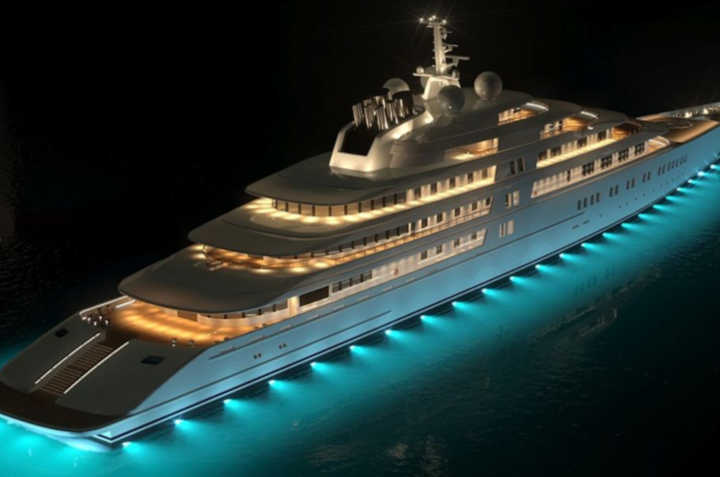 2. Eclipse – 162,5m
Eclipse is no longer the largest yacht in the world, as of November 2016. The superyacht Eclipse was built by Blohm+Voss of Hamburg, Germany, and is the world's fourth-longest yacht. Terence Disdale was in charge of the design of the vessel's exterior and interior. The yacht was delivered to Russian businessman Roman Abramovich on December 9, 2010. At 162.5 meters (533 ft 2 in), Eclipse was the world's longest private yacht until April 2013, when it was surpassed by the Azzam, which is 17.3 meters (56 ft 9 in) long. The cost of ECLIPSE has been reported at €340 million.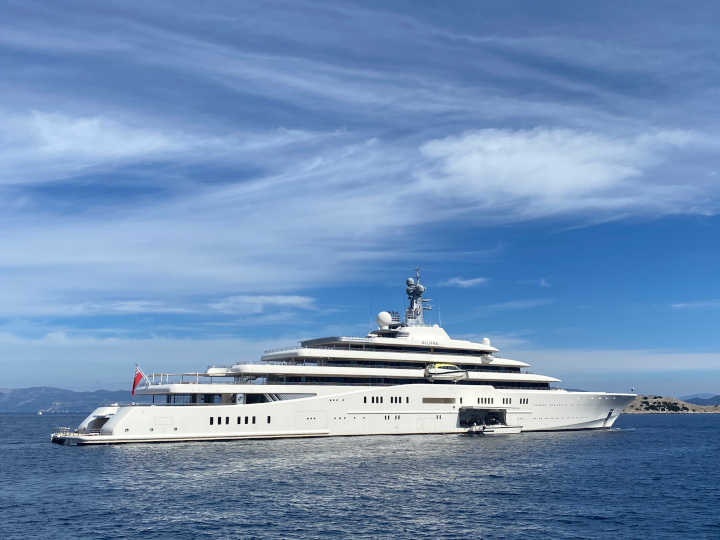 3. Dubai – 156m
Built by the German shipyard Lurssen, this yacht belongs to Sheikh Mohammed bin Rashid Al Maktoum, prime minister and vice president of the United Arab Emirates. The heart of the boat is a four-story-high atrium with a large staircase next to it. Furthermore, there are two steam rooms and three swimming pools onboard which makes this boat perfect for parties.
The owner has never been seen in public in Dubai however he did take her out from its homeport in ısland at the end of September 2013 – maybe for a trip around Asia or even Australia. All we know is that it will have a crew of more than 50 people onboard where 1 staff member is appointed only for the Sheikh's shoes.
. The yacht has a very impressive list of features – three swimming pools, six suites, a beach club, a beauty salon, and a helipad. The yacht is also one of the most technologically advanced yachts in the world and is equipped with a missile defense system.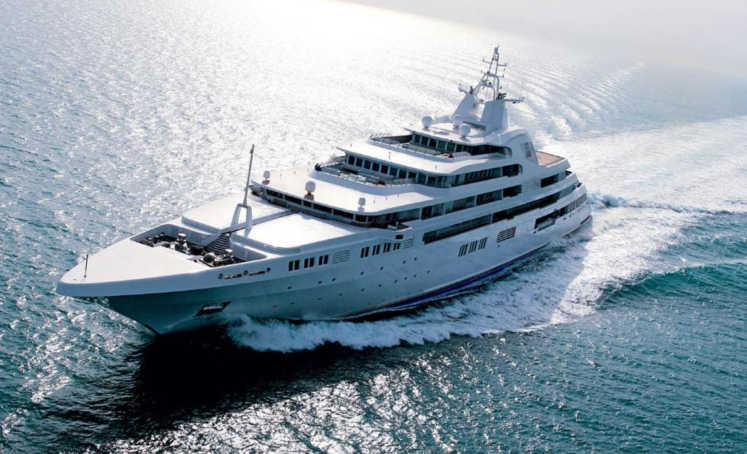 4. Al Said
At 155 meters long and built by German shipbuilding company Lurssen Yachts, this yacht is one of the most expensive yachts on Earth. Owned by Sultan Qaboos bin Said al Said of Oman it has a crew that consists of 70 members and can accommodate just 80 guests. Al Said has seven decks and looks like a military ship after its unique exterior design. It took six years to be built and costs more than $300 million. There are many rooms onboard dedicated to entertainment such as cinema, swimming pool and helipad as well as library which is stated to have at least 3.000 books, all of which are related to the Sultan's interest in maritime life.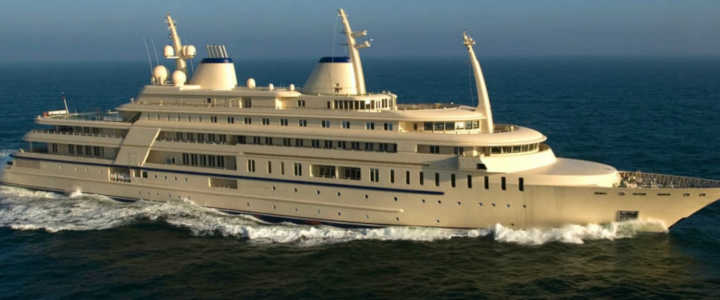 5. Al Salamah – 147,25m
Al Salamah is owned by Saudi Arabian businessman Al-Waleed bin Talal bin Abdul Aziz al Saud. The boat was built by the Germans and delivered in 2007. It is one of the most luxurious boats with a large private spa & gym. The boat was originally offered for USD 500 million but it has been "on hold" since 2008. The boat measures a total of 147 meters and accommodates a crew of 152 people.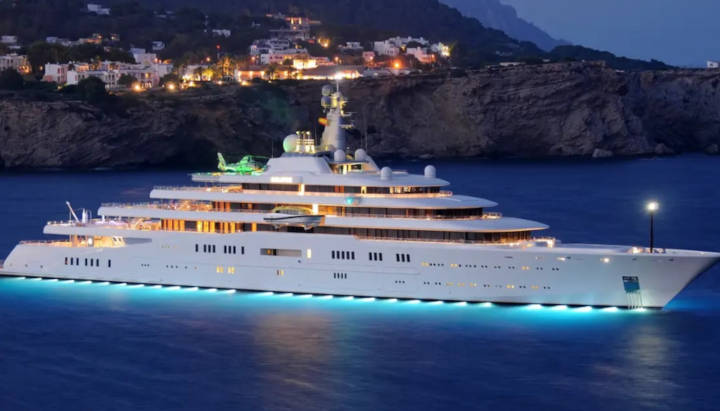 6. Prince Abdulaziz – 139,7m
Prince Abdulaziz belongs to Prince Abdul Aziz bin Abdullah bin Abdulrahman Al Saud, the grandson of King Abdullah of Saudi Arabia.
The yacht was built in 1984 and measures a total of 145 meters. It is armed with missiles and has a helicopter landing pad.
The boat has its own cinema and sauna as well as a large outdoor swimming pool.
There are 22 rooms for guests onboard and a crew of 69 people.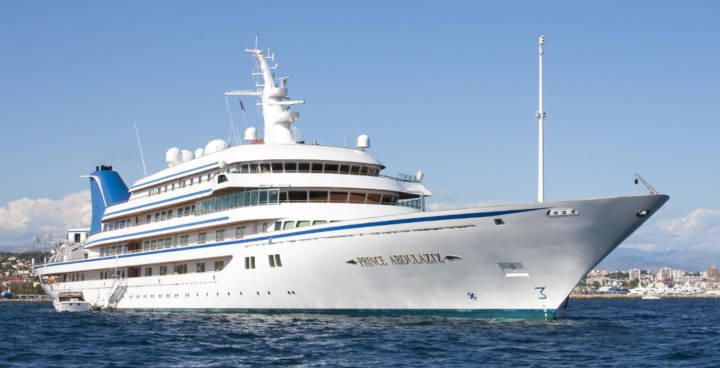 7. Topaz – 138,8m
The yacht was built by Lurssen Yachts in 2011 and measures a total of 142 meters.
There are 23 guest rooms onboard and a crew of 54 people.
The yacht was designed by Tim Heywood and built at the Peters Schiffbau shipyard in Germany in addition to an American company that specializes in interior fittings. The shipyard also oversaw the construction of Topaz's sister ships, El Horriya and Irena.
The yacht has a large swimming pool with a glass cover that can be transformed into a dance floor. Furthermore, the boat has its own helipad, beach club, and sundeck.
Built-in 2008 by Peters Schiffbau, the Topaz is one of the largest yachts in the world and measures a total of 142 meters. This makes it just 7 meters shorter than Al Salamah.
The boat is owned by Sheikh Mansour bin Zayed Al Nahyan from Abu Dhabi. There are 24 rooms onboard and a crew of 70 people.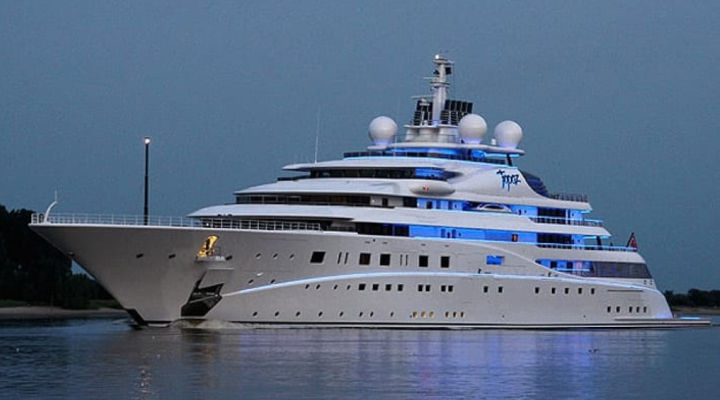 8. El Horriya – 130,50m
El Horriya is owned by Saudi Arabian businessman Al-Waleed bin Talal bin Abdul Aziz al Saud. He bought the boat in 1988 and measures a total of 130,5 meters.
The yacht is named after his mother who died when Al-Waleed was 13 years old.
El Horriya is equipped with 6 luxury guest rooms and is manned by a crew of 82 people.
It has an outdoor disco hall on deck that can also be used as a helipad, various swimming pools including one covered by a retractable roof, two sun decks, three helicopter pads, and multiple sports facilities for entertainment purposes.
Built-in 2010 by Lürssen Yachts El Horrya is among the world's largest yachts and measures a total of 130 meters.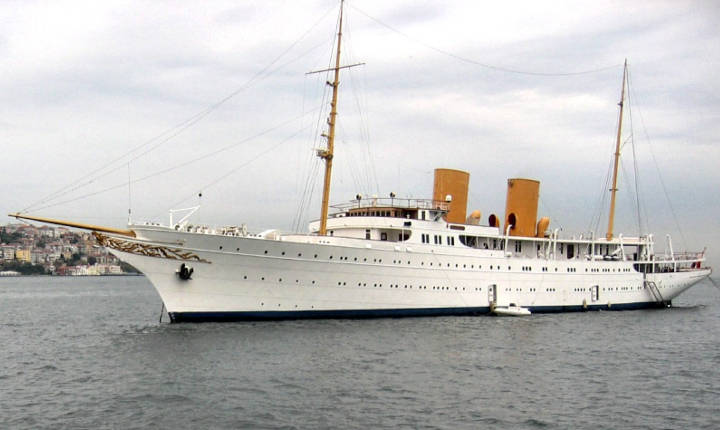 9. Yas – 130 m
Yas is owned by Mohammed bin Rashid Al Maktoum, Emir of Dubai. It was built in 2008 by Lürssen Yachts and measures a total of 130 meters. The superyacht has 6 luxury guest rooms on board.
There are 54 crew members on board to help run various activities including water skiing, jet skiing, etc.
Named Yas, the boat is powered by two diesel engines that allow it to reach a maximum speed of 22 knots.
10. Savarona I & II – 128 & 125 m
Savarona I is owned by the Turkish businessman Kahraman Sadikoglu. Savarona I measures a total of 128 meters (420 ft).
She was built in 1931 by Blohm + Voss and has 4 decks above water.
The yacht hosted several world leaders like Charles de Gaulle, Richard Nixon, Elizabeth II, Queen Juliana, etc. during its time under German ownership.
Savarona II is a sister ship of Savarona I and measures a total of 125 meters (410 ft).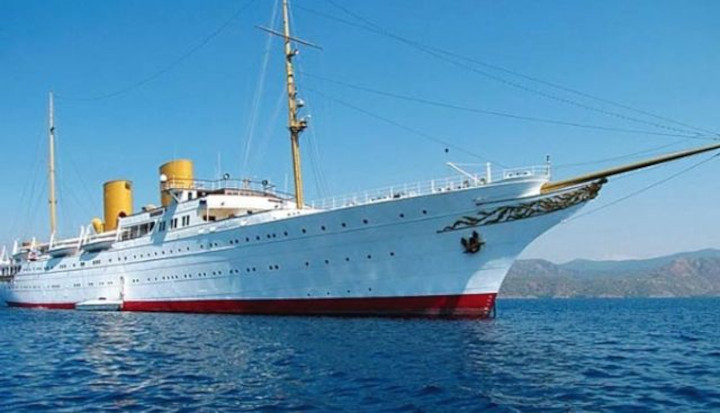 11 . Al Mirqab
Al Mirqab is owned by Sheikh Hamad bin Jassim bin Jaber Al Thani. It was built in 2008 by Peters Schiffbau and measures a total of 126 meters (413 ft).
The yacht is equipped with two diesel engines that allow it to reach a maximum speed of 22 knots.
It has 12 guest rooms onboard which are all decorated with unique furniture.